The Watches auction organized by Tajan included an exclusive selection of 187 watches from the best watch brands chosen according to their condition, rarity and quality. Total sale including costs : 780 514 $ USD, selling more than 60% of the lots presented.
BEST RESULTS
Lot 131 : Audemars Piguet, ref. 5402 BC, B series, Royal Oak Jumbo model, wristwatch with white gold tonneau case and octagonal screwed bezel set with diamonds on the edge, automatic movement, sold for 203 649 $ USD.
Lot 130 : Patek Philippe, ref. 5130G, World Time model, white gold case, opaline dial guilloché in the centre with rotating bezel and push-piece at 10 o'clock for the 24 hours and indication of the world's capitals, automatic movement with micro rotor, sold for 39 558 $ USD.
BEST 
PERFORMANCES
Lot 117 : Gubelin Lucerne, leather watch strap with rectangular yellow gold case, silver dial with railway and minute scale, mechanical movement, false rib decoration, 18 jewels, or 983% variation between the low estimate and the final result (21 977 $ USD).
Lot 142 : Cartier, silver plated platinum finish letter opener watch, limited series of 2 000 pieces, silver dial with painted Roman numerals and blued steel sword hands, quartz movement, representing a 388% variation between the low estimate and the final result (1 099 $ USD).
Lot 14 : Bervilliers,  pocket watch in 14k pink gold, champagne dial with painted Arabic numeral indexes, railway and small seconds at 6 o'clock, mechanical movement, lever escapement, or 323% variation between the low estimate and the final result (952 $ USD).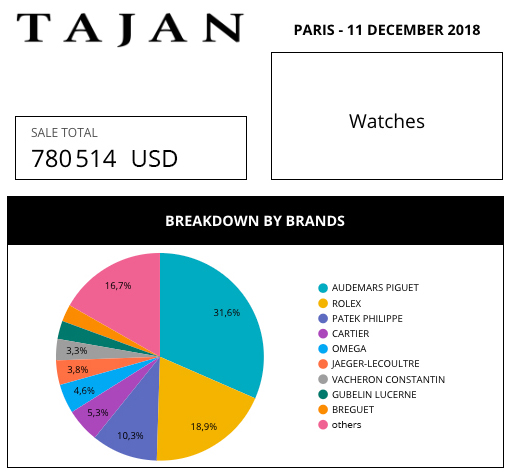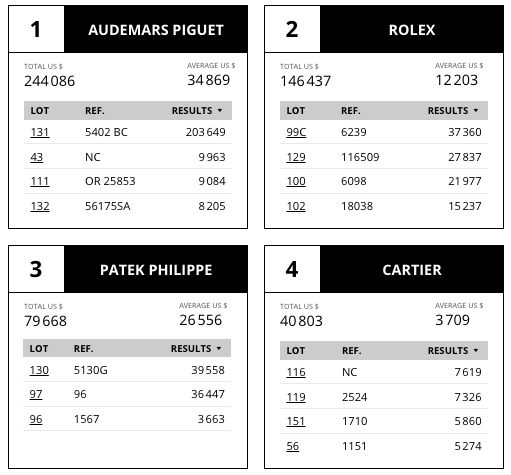 BREAKDOWN BY BRANDS
Audemars Piguet
On the first step of the podium, with a watch having surpassed the 200 000 $ USD mark, average per lot 34 869 $ USD. A result based on the highest bid of the sale with lot 131.
Rolex
On the second step of the podium, with a watch above 30 000 $ USD, average per lot 12 203 $ USD.
Patek Philippe
On the third step of the podium, with two watches exceeding the 30 000 $ USD mark, an average of 26 556 $ USD per lot.
These three brands represent a total revenue of 470 191 $ USD, or 60% of the total sale.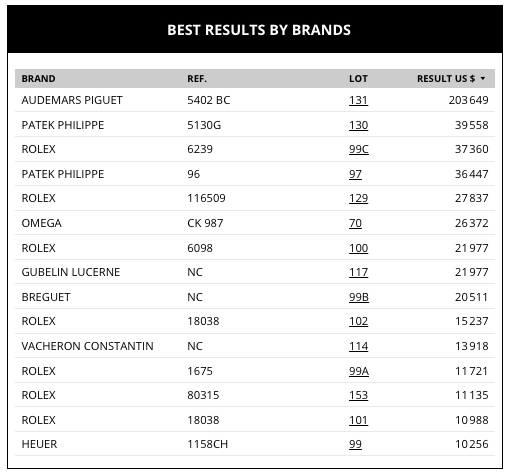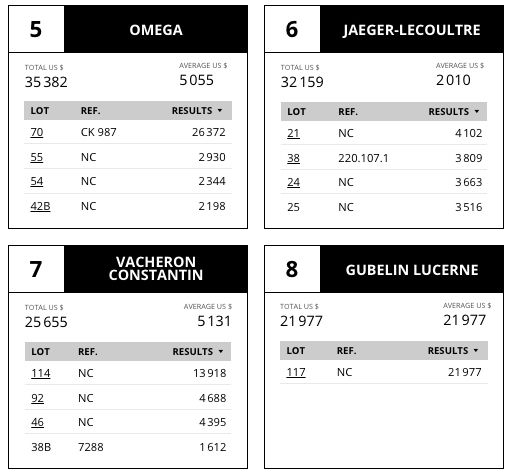 AVERAGE PRICE PER LOT
Based on the number of lots, 187 in total, including 71 unsold lots, the average price of a lot was 6 729 $ USD.
CONCLUSION
Even if the global result of this auction is more suited to the local Parisian market, it has achieved a remarkable result on Audemars Piguet showing the dynamics behind the band in the vintage world. It is definitely one of the fastest growing brands in the auction world today if we look closely at this second semester.