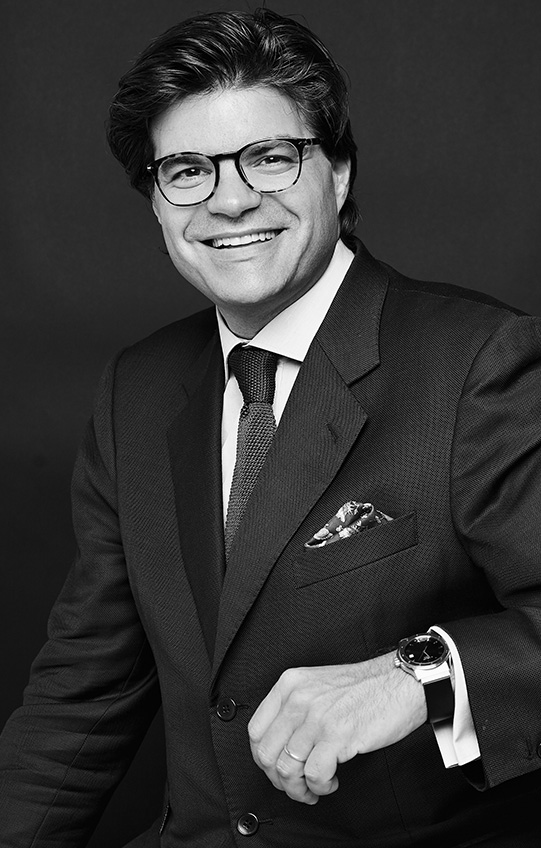 GEOFFROY ADER, expert in horology, modern and vintage watches
Coming from a family of Parisian auctioneers, Geoffroy Ader began his career as a watch specialist at Drouot in 1995, alongside his father, the auctioneer Me Antoine Ader, then left for the Geneva auction house Antiquorum.
In 2005, he joined Tajan as Watch Department Director in charge of auctions in Paris and Monaco. Geoffroy Ader was appointed European Director of Sotheby's Luxury Watch department in Geneva, where he initiated the department's first evening sale in May 2008.
Throughout his career, he has handled a number of exceptional timepieces, including the Patek Philippe "Trossi Leggenda" that belonged to Count Trossi, the first Scuderia Ferrari manager, and German Chancellor Konrad Adenauer's personal Rolex and the ultra thin complicated pocket watch Breguet of Lord Seymour.
Head of the department for 7 years, Sotheby's Geneva made a world record for a timepiece sale in 2014, with the Patek Philippe « Graves Supercomplication ». Seeking new challenges, Geoffroy Ader returned to Antiquorum in 2015 as head of the digital sector. He created their first e-commerce watch platform, Antiquorum Watch Boutique, which he developed to become familiar with the new generation of Internet collectors.
Ader Watches is now bringing a new approach, both offline and online, to the field of watch expertise in conjunction with major players on the market, such as Artcurial while developing an array of services via Ader Watches. Geoffroy Ader is a member of the Syndicat Français des Experts Professionnels en Œuvres d'Art et Objets de Collection and member of the academy of Grand Prix Horlogerie de Genève.