The "Important Watches" auction, organized by Sotheby's in Hong Kong on October 5, 2022, featured an exclusive selection of 249 pieces from the best watch brands chosen for their condition, rarity and quality. The total sale, including fees, was $17,965,973 USD, representing 67% of the lots presented.
BEST RESULTS
Lot 2257 : PATEK PHILIPPE, Sky Moon Tourbillon "988", ref.5002, Platinum bracelet watch with double dial and 12 complications including tourbillon, minute repeater with cathedral chime, perpetual calendar, retrograde date, phases of the moon, sidereal time, starry sky. Sold for $1,589,315 USD.
Lot 2178 : PHILIPPE DUFOUR, Simplicity, Number 167, white gold wristwatch. Sold for $931,039 USD.
BEST PERFORMANCES
Lot 2158 : F.P. JOURNE, Octa UTC, rose gold wristwatch with date and power reserve. 215% variation between the low estimate and the final result ($93,314 USD).
Lot 2180 : AUDEMARS PIGUET, ref. 35715, enameled yellow gold and diamond pocket watch. Depicting a scene attributed to Edgar Degas, by Gabriella Rivalta. 204% variation between the low estimate and the final result ($93,103 USD).
Lot 2155 : F.P. JOURNE, Octa Perpetual Anniversary Tokyo. Limited edition in titanium and rose gold with perpetual calendar, day, retrograde date. 162% variation between the low estimate and the final result ($299,655 USD)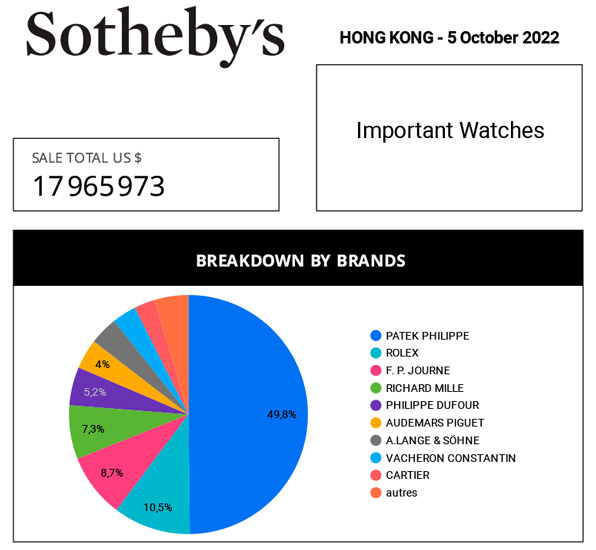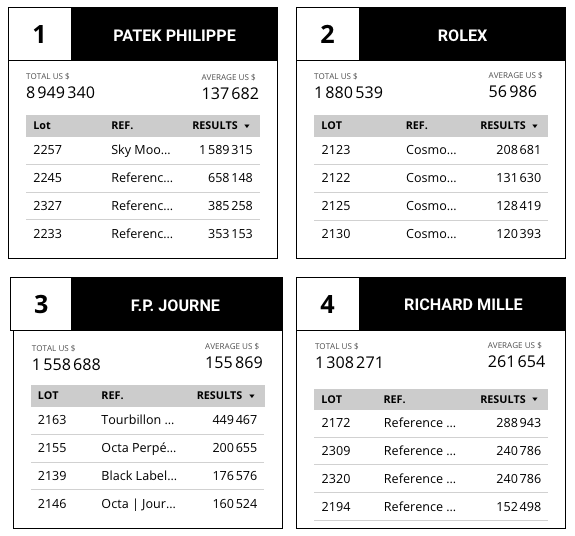 BREAKDOWN BY BRAND
PATEK PHILIPPE
Occupying the top spot in the auction's price list. PATEK PHILIPPE realized the highest figure of the sale, i.e. $8,949,340 USD.
ROLEX
Occupying the second place of the best prices of the sale ROLEX realized the figure of 1 880 539 $ USD
F.P. JOURNE
With a watch that reached the price of $449,467 USD, it is the third best performing brand in this sale with a result of $1,558,688 USD.
These three brands accounted for total proceeds of $12,388,567 USD, or 69% of the total sale.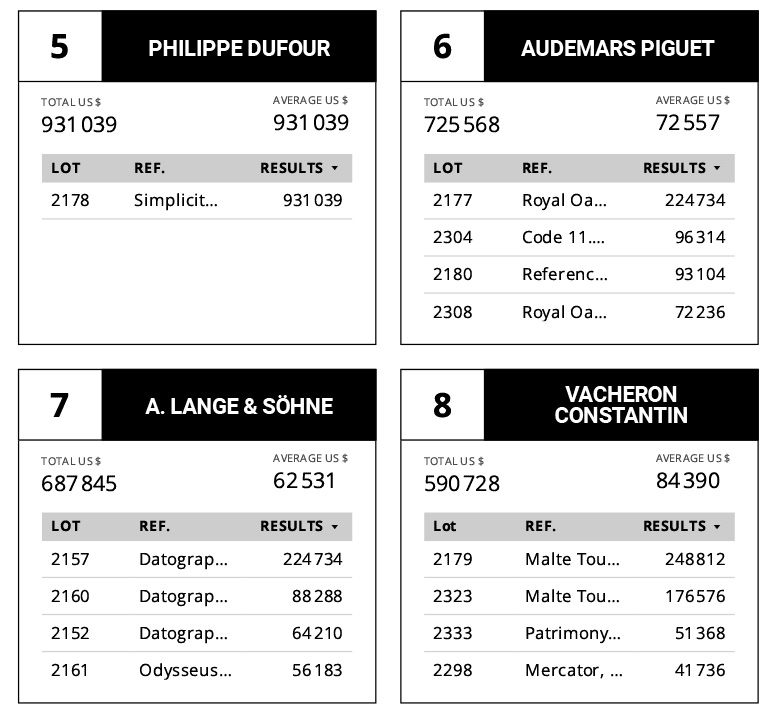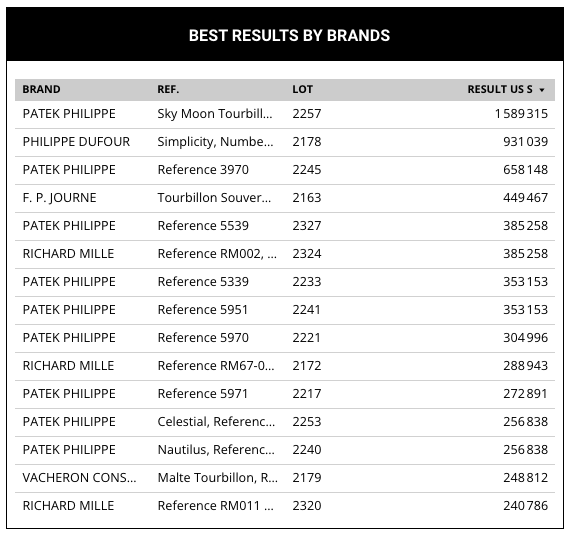 AVERAGE PRICE PER LOT
Given the number of lots, 249 in total, including 82 unsold lots, the average price per lot was $107,581.
CONCLUSION
This sale once again demonstrated the dynamism of the auction market, with the following brands in the top three: Patek Philippe, Rolex, F.P. Journe.
GEOFFROY ADER